Easy Classic Hummus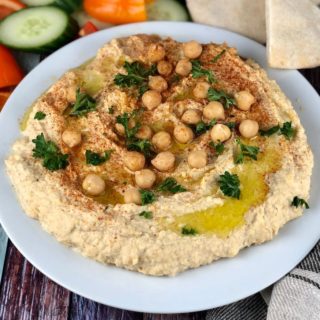 1 15 ounce can chickpeas
⅓ cup tahini
¼ cup cold water
3 tablespoons freshly squeezed lemon juice
2 tablespoons + 2 teaspoons olive oil
2 cloves garlic, roughly chopped
½ teaspoon ground cumin
salt to taste
1 tablespoon chopped fresh parsley
¼ teaspoon paprika
Drain and rinse chickpeas. Set aside 2 tablespoons chickpeas to use later as a garnish.
In a food processor, combine the tahini, water, 2 tablespoons olive oil, garlic, cumin & lemon juice and salt. Process for 1 minute.
Add the chickpeas to the food processor and process for about 4 minutes, scraping down the sides after each minute. Taste and add additional salt if necessary. If the consistency is too thick, add a couple additional tablespoons of water and process for another 30 seconds.
Spoon the hummus onto a platter. Drizzle reserved 2 teaspoons olive oil on top, sprinkle with paprika, parsley and top with reserved 2 tablespoons chickpeas.