Quick-Pickled Radishes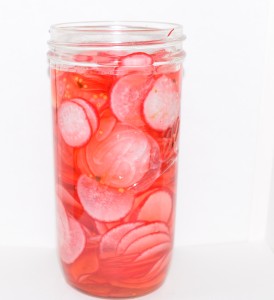 1 bunch (about 12 radishes)
2 whole cloves of garlic
¾ cup distilled white vinegar
½ cup water
2 tablespoons sugar
2 teaspoons kosher salt
½ teaspoon mustard seeds
¼ teaspoon crushed red pepper flakes
Wash and cut the tops and bottoms off the radishes.
Thinly slice the radishes using a sharp knife or a mandoline slicer.
Place the sliced radishes and garlic cloves in a pint jar.
To make the brine, in a saucepan bring the remaining ingredients to a boil until the sugar is dissolved. Pour the brine mixture over the radishes. Let the mixture cool to room temperature. Serve immediately or refrigerate for later use.