Super Seed Crackers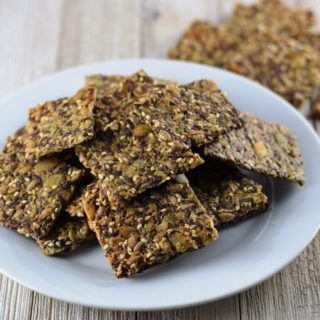 1½ cup old fashioned oatmeal
1 cup roasted unsalted sunflower seeds
½ cup flax seeds
½ cup pumpkin seeds
¼ cup hemp seeds
¼ cup sesame seeds
¼ cup ground flax seeds
¼ cup hemp powder
¼ cup chia seeds
1½ teaspoons fine grain sea salt
1½ cups water
3 Tablespoons liquid coconut oil
1 Tablespoon maple syrup or honey
In a large bowl, combine all the dry ingredients (oatmeal through chia seeds). In a measuring cup stir together the water, coconut oil and maple syrup. Stir the ingredients from the measuring cup into the bowl of the dry ingredients. Stir well. If the mixture is too dry, add a few tablespoons of water. If it seems too wet, let it sit for several minutes. The oatmeal and chia seeds will really soak up any excess moisture. Divide the dough in half and shape each half into a ball.
Cover the bottom of two 12 x 17" baking sheets with parchment paper. Place one ball of dough on each baking sheet. Cover with another sheet of parchment paper and roll the dough into a sheet to completely cover the baking sheet. Score the dough with the tip of a knife into about 1 - 2" squares. Let the dough sit on the counter for at least 2 hours.
Preheat the oven to 350. Remove the top sheet of parchment paper from the dough and bake for 20 minutes. Remove the cookie sheet from the oven, flip the cracker sheet over and remove the parchment paper. Return to the oven and bake for an additional 10 minutes or until the cracker is crisp.
Let cool and break the sheet into crackers along the scored lines. Store in an airtight container for up to 3 weeks.