Chocolate Cream Cheese Cupcakes with Chocolate Chips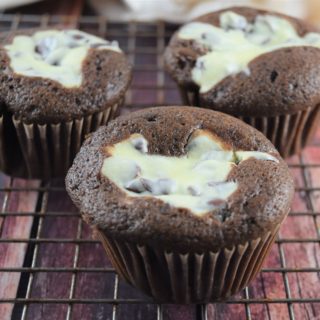 1 8 ounce package cream cheese, at room temperature
1 large egg
⅓ cup sugar
½ teaspoon salt
¾ cup semi-sweet chocolate chips
1½ cup flour
1 teaspoon baking soda
¼ cup unsweetened cocoa
1 cup sugar
⅓ cup canola oil
1 cup water
1 teaspoon vanilla
Preheat oven to 325
In a mixing bowl, beat the cream cheese, egg, ⅓ cup sugar and salt until smooth. Stir in chocolate chips.
In a medium bowl, stir together the flour, baking soda, and cocoa. Set aside.
In a mixing bowl, beat the 1 cup sugar, water, oil, and vanilla until smooth.
Add the flour mixture and beat until smooth.
Place cupcake liners in a cupcake baking pan. Fill each cup ¾ full with batter. Spoon 1 tablespoon cream cheese mixture and place on the top of the batter. Gently press the cream cheese mixture into the batter. Bake 30-35 minutes or until a toothpick poked into the center of the cupcake comes out clean.
Recipe by
White River Kitchen
at https://whiteriverkitchen.com/chocolate-cream-cheese-cupcakes-chocolate-chips/