Quick Pickled Red Onions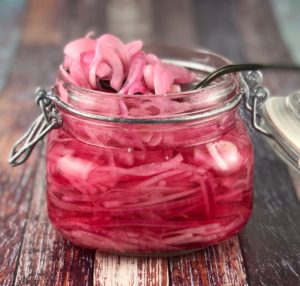 1 large red onion, peeled and thinly sliced
1¼ cup white wine vinegar
1 Tablespoon sugar
1 teaspoon salt
Stuff the onions in a pint sized glass jar
In a small sauce pan over medium heat, combine the vinegar, sugar and salt until the sugar and the salt dissolve and the vinegar is simmering.
Pour the vinegar mixture over the onions until the jar is full.
Let mixture come to room temperature before refrigerating.