Roasted Corn, Tomato & Edamame Salad with Southwestern Buttermilk Ranch Dressing
4 ears of grilled corn, kernels removed from cob
1 12 ounce package frozen shelled edamame
3 cups cherry tomatoes, halved
1 15 ounce can black beans, rinsed and drained
½ cup red onion, diced
½ cup red bell pepper, diced
2 tablespoons jalapeno pepper, finely diced
2 tablespoons cilantro, diced
½ teaspoon salt
¼ teaspoon black pepper
Southwestern Buttermilk Ranch Dressing (recipe follows)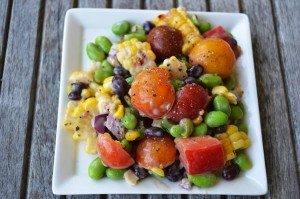 Grilled Corn on the Cob:
Prepare the grill to medium heat. Pull the husks away from the corn; do not remove from the cob.  Remove silk.  Pull husks up over the kernels.  Submerge corn in a large bowl of cool water with 1 Tablespoon of salt for 10 minutes.  Shake off excess water.  Brush oil on grill grates.  Grill cobs for 20 minutes or until kernels are tender when pierced, turning every 5-6 minutes.  Remove corn from grill until cool enough to handle.  Cut kernels off the cob.
Cook edamame according to package instructions.
Combine all ingredients in a large bowl to serve, or divide salad evenly among plates and drizzle about 2 tablespoons dressing over each salad
Southwestern Buttermilk-Ranch Dressing:
½ cup mayonnaise
¼ cup buttermilk
2 tablespoons cilantro
2 tablespoons lime juice
1 tablespoon grated onion
2 garlic cloves, minced
1 teaspoon Worcestershire
½ teaspoon cumin
¼ teaspoon cayenne
1/8 teaspoon salt
Mix all ingredients together in a blender until combined.