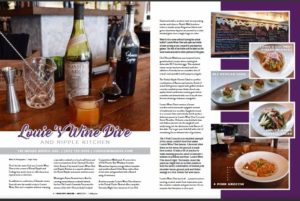 Louie's Wine Dive Restaurant Review
Here's the review:
Don't let the name fool you-Louie's at the corner of Broad Ripple and College has much more to offer than your "typical" wine or dive bar. In addition to a selection of fantastic wines from all over the world, a trip to Louie's isn't complete without enjoying a specialty cocktail or a local craft brew and some scrumptious food. Opened since October 2016, Kansas-City based Louie's Wine Dive & Ripple Kitchen is a superb addition to the Broad Ripple restaurant & bar scene.
Mixologist, Brian Evanich, has a flair for creating extraordinary cocktails behind the bar. His Louie's Lavender Sour was the winner of the 2017 Devour Midtown Cocktail Competition.  A concoction of Old Portrero Rye Whiskey, Luxardo Maraschino liquor, orange bitters, house-made lavender vanilla with a float of red wine and garnished with a flamed sprig of rosemary.
Another popular Louie's libation is the Drunk Uncle.  Named after a popular Saturday Night Live character, it's an Old-Fashioned with a modern twist incorporating smoke and tobacco.  Noah's Mill bourbon, tobacco simple syrup, angostura bitters and green chartreuse liquor are poured in a cedar -smocked glass over a single, large ice cube.
Want to try a wine without buying the whole bottle? Louie's will open any bottle of wine as long as you commit to purchase two glasses. The rest of the bottle will be listed on the wine board and sold to other patrons by the glass.
Chef Patrick Matthew was inspired by his grandmother's recipe when creating his delectable BLT deviled eggs. This updated classic recipe has been elevated with the addition of smoky bacon crumbles, bits of tomato and sprinkled with peppery arugula.
The Emily's Apple Harvest Salad is a perfect combination of flavors and textures.  A bed of mixed field greens, topped with grilled chicken, crunchy candied pecans, thinly-sliced crisp apples, dried cranberries, creamy goat cheese crumbles and dressed with one of my all-time favorite dressings: balsamic vinaigrette.
Louie's version of street noodles uses homemade spaghetti instead of traditional rice noodles. Spaghetti tossed in a coconut-lime and sriracha broth packs a delicious punch in Louie's Coconut Street Noodles.  Delicate, crisp kohlrabi slaw and daikon sprouts top the spaghetti and really bring out the distinctive bold flavors of this dish. Try to get your fork full with a bit of everything for an ultimate bite of goodness.
The 4 Pork Gnocchi is an excellent example of the casual, comfort food that makes Louie's famous.  Like most other items on the menu, the gnocchi is made from scratch.  It takes a lot of practice to make amazing gnocchi which is basically a mixture of potatoes and flour.  Louie's does it right – the  tender,  cloudlike pasta has ridges that act as little cradles to hold the savory combination of braised pork shoulder, bacon, ground pork and Italian sausage in a rich creamy red wine sauce.
Louie's has it all – prime location, exciting, scratch made food, impressive wine list, creative cocktails, and great service.  It's no surprise that this place is a hot spot.