A low calorie snack or side packed with flavor.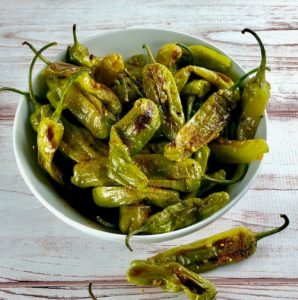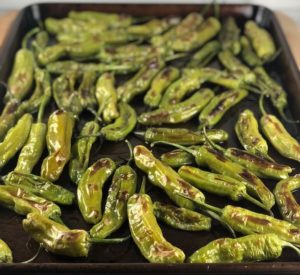 Shishito peppers are bright green, about the size of a finger and normally have a mild flavor. About one in 10 have some heat. I love this recipe and normally make a double batch to have around the house for a snack.  Trader Joe's usually has shishito peppers in stock in the produce section. Togarashi is a mixture of ground chili peppers and other seasonings and is available at Asian markets or on line.  It has a nice flavor kick and is also great sprinkled on rice, sauteed spinach and meats.
Roasted Shishito Peppers with Citrus Soy & Togarshi
This is a great recipe to make for a low calorie snack or light vegetable side dish. Find the peppers at Trader Joe's. Togarashi is available in Asian markets or online.
Ingredients
12 ounces fresh shishito peppers
2 Tablespoons olive oil
⅓ cup soy sauce
¼ cup freshly squeezed lime juice
1 teaspoon minced ginger
1 teaspoon minced garlic
½ teaspoon togarashi (to taste)
Instructions
Preheat oven to 450.
Place the shishito peppers on a rimmed baking sheet. Drizzle olive oil over the peppers and toss until the peppers are evenly coated with the oil. Scatter the peppers on the baking sheet in a single layer. Place baking sheet in the oven and roast for about 5-7 minutes until the peppers are lightly charred in places and blistered, stirring once or twice.
Combine soy sauce, lime juice, ginger and garlic in a medium bowl.
Toss the roasted peppers in the citrus soy marinade. Sprinkle with togarashi.