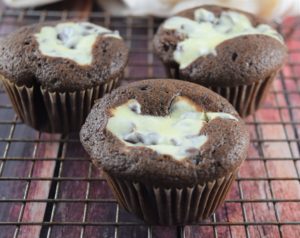 Chocolate Cupcakes with Cream Cheese and Chocolate Chips
Chocolate and cream cheese have always been a couple of my favorites.  When I saw a recipe that combined the two I was anxious to make it. During the last month of my pregnancy with my first daughter Shelby, I made a dozen of these cupcakes once a week.  I would enjoy one or two each day – one for breakfast and maybe one after dinner.   They were fabulous – from the rich taste of the chocolate to the gooey melted chocolate chips and the creamy texture of the cream cheese.
Well, the cupcakes caught up with me.  During the weigh-in for my 3 week check up with the doctor, the scales showed I gained 15 pounds in 3 weeks.  This was during the time my normal pregnancy weight gain should have been a pound a week.  No joke, the doctor thought his scale was broken and escorted me across the hall to another doctor's office to double check.  Nope – his scale was accurate.  A 15 pound weight gain in three weeks!  I only gain 25 pounds during the entire pregnancy.  He asked if I changed anything in my diet.  Yep and I haven't made or eaten these cupcakes since then – until today.  Believe me, I have thought about them often.
After hearing this story, people over the past 26 years frequently request the recipe.  In honor of National Cupcake Day tomorrow  October 16th, I decided to recreate the recipe and share it.  Enjoy – in moderation.

Chocolate Cream Cheese Cupcakes with Chocolate Chips
Ingredients
1 8 ounce package cream cheese, at room temperature
1 large egg
⅓ cup sugar
½ teaspoon salt
¾ cup semi-sweet chocolate chips
1½ cup flour
1 teaspoon baking soda
¼ cup unsweetened cocoa
1 cup sugar
⅓ cup canola oil
1 cup water
1 teaspoon vanilla
Instructions
Preheat oven to 325

Cream Cheese Topping
In a mixing bowl, beat the cream cheese, egg, ⅓ cup sugar and salt until smooth. Stir in chocolate chips.
Cupcakes
In a medium bowl, stir together the flour, baking soda, and cocoa. Set aside.
In a mixing bowl, beat the 1 cup sugar, water, oil, and vanilla until smooth.
Add the flour mixture and beat until smooth.
Place cupcake liners in a cupcake baking pan. Fill each cup ¾ full with batter. Spoon 1 tablespoon cream cheese mixture and place on the top of the batter. Gently press the cream cheese mixture into the batter. Bake 30-35 minutes or until a toothpick poked into the center of the cupcake comes out clean.