Thin, crispy and delicious. Super Seed Crackers are also packed with essential nutrients
Recently, I stumbled upon a post at My New Roots for "The Life-Changing Crackers".  It reminded me of some crackers I purchased at Costco called Mary's Gone Crackers.  I made a few changes to the recipe and preparation but I give full credit to My New Roots for my version of their recipe which I call Super Seed Crackers.
To make it easy, and to avoid having a lot of leftover ingredients, I purchased most of the dry ingredients from the bulk section at Fresh Thyme.  I estimated the quantities.  It really doesn't matter if you're off a little with the quantities of the items.  If the mixture ends up being too dry, add a little more water and if it's too wet, let it sit for several minutes and it will thicken.
Chia seeds, hemp seeds, pumpkin seeks, sunflower seeds and flax seeds are the super seeds in this recipe.  While doing research on each of these seeds and their nutritional benefits, I found a great article from Readers Digest which has a great consice summary of these super seeds.  All the items in quotes are from the article.
Chia seeds – "high in iron, folate, calcium, magnesium, omega-3 fatty acids and soluble fiber. The superseed's calcium and magnesium promote bone and dental health, while the omega-3s help your heart by lowering triglycerides, the bad fats in your blood that can cause heart disease. Their soluble fiber helps decrease cholesterol, stabilize blood sugar, and make you feel full longer."
Hemp seeds – "great source of complete protein and omega-3 and omega-6 fatty acids. They also contain phytosterols, plant-based compounds that help lower cholesterol levels. Note: While hemp and marijuana are both members of the cannabis family, hemp doesn't contain THC, marijuana's active ingredient. Eating hemp seeds will not give you the same effect as smoking marijuana."
Pumpkin seeds – "a source of B vitamins, iron, magnesium, zinc, and protein, and are particularly rich in the amino acid tryptophan, which may help lower anxiety. Pumpkin seeds also have high levels of essential fatty acids that help keep blood vessels healthy and lower bad cholesterol."
Sunflower seeds – "an excellent source of B vitamins, including folate (which helps prevent birth defects), and vitamin E, a powerful antioxidant that protects cells from damage, helps maintain healthy hair and skin, and may work to prevent cancer. They are also rich in protein and heart-healthy fats."
Flax seeds – "little, brown, nutty-flavored superseeds are a great source of soluble fiber, which helps lower cholesterol, makes you feel fuller longer, and aids in stabilizing blood sugar levels. Flax seeds are packed with omega-3 fatty acid, which benefits eye and brain health, and can help lower triglycerides. High in lignans, a plant-like form of estrogen, they may also help prevent certain cancers."
Enjoy Super Seed Crackers plain or serve with some some creamy cheese.  Be inspired by this base recipe for Super Seed Crackers.  Add different spices, seeds, dried fruit to make it your own.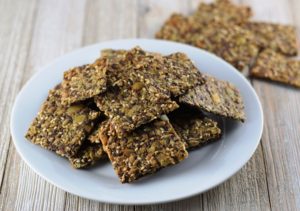 Super Seed Crackers
Ingredients
1½ cup old fashioned oatmeal
1 cup roasted unsalted sunflower seeds
½ cup flax seeds
½ cup pumpkin seeds
¼ cup hemp seeds
¼ cup sesame seeds
¼ cup ground flax seeds
¼ cup hemp powder
¼ cup chia seeds
1½ teaspoons fine grain sea salt
1½ cups water
3 Tablespoons liquid coconut oil
1 Tablespoon maple syrup or honey
Instructions
In a large bowl, combine all the dry ingredients (oatmeal through chia seeds). In a measuring cup stir together the water, coconut oil and maple syrup. Stir the ingredients from the measuring cup into the bowl of the dry ingredients. Stir well. If the mixture is too dry, add a few tablespoons of water. If it seems too wet, let it sit for several minutes. The oatmeal and chia seeds will really soak up any excess moisture. Divide the dough in half and shape each half into a ball.
Cover the bottom of two 12 x 17" baking sheets with parchment paper. Place one ball of dough on each baking sheet. Cover with another sheet of parchment paper and roll the dough into a sheet to completely cover the baking sheet. Score the dough with the tip of a knife into about 1 - 2" squares. Let the dough sit on the counter for at least 2 hours.
Preheat the oven to 350. Remove the top sheet of parchment paper from the dough and bake for 20 minutes. Remove the cookie sheet from the oven, flip the cracker sheet over and remove the parchment paper. Return to the oven and bake for an additional 10 minutes or until the cracker is crisp.
Let cool and break the sheet into crackers along the scored lines. Store in an airtight container for up to 3 weeks.